Featured Review: Forget Expensive Cable TV, Save $100-300+ Per Month With The FlatWave HDTV Antenna
Dec 06, 2015 @ 5:23 PM ET
By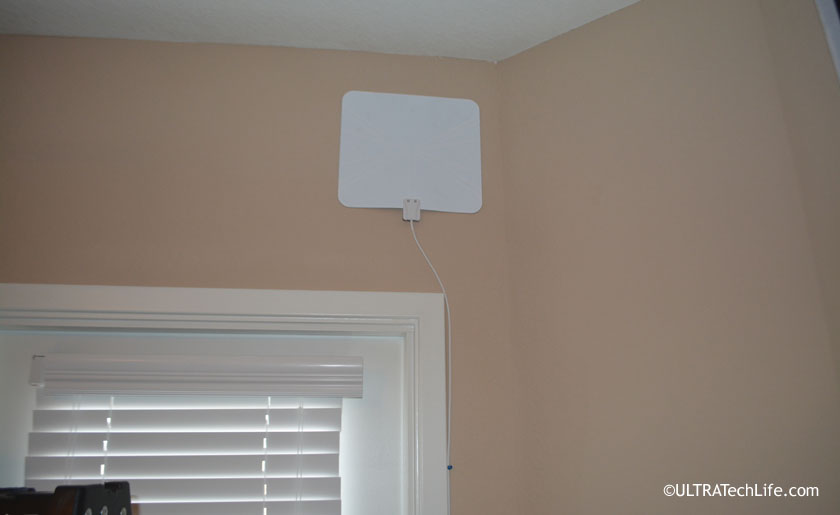 In this featured review, we put the FlatWave HDTV antenna to the test to see if you can really get free channels, ditch your monthly cable TV subscription, and save hundreds of dollars. Antenna TV is really starting to catch on, especially in an economy where you have to make your dollar last and saving money is an absolute must. The average subscriber is spending $150 a month on cable TV services, which is about $1,800 each year. What could you do with that money in your pocket? Check out our test of the futuristic FlatWave indoor HDTV antenna.
Does It Really Work?
After getting fed up with the annual cost of HD cable TV service, it was time to try something new. Antenna TV is this idea that is starting to gain ground because people are finding out that many channels are available for free, such as your local ABC, NBC, and CBS HD broadcast channels. Can you really save by getting rid of your cable channels? Yes.
We did some research and selected a cool antenna, called the FlatWave. It's so thin that it looks like a piece of paper with a tiny wire coming out of it. Who could imagine that this device could save us $1,200 annually? Does it work? Absolutely.
Our Experience
The FlatWave HDTV antenna by Winegard is a modern, and quite catchy-looking device. The look is so much better than the ugly, or traditional, "rabbit ears" antenna of the past. It's very easy to find places to put this antenna, regardless of whether you have a home, apartment, or dorm room. The antenna is so small and lightweight that you could use your imagination with placement.
We tested our model inside of a major city, specifically Orlando, Florida. People will get the best reception results (most channels) when they live inside a major city with a lot of broadcast transmissions.
Within 15 minutes, the antenna was placed on the wall, connected to the amplifier, and into the HDTV. It takes about 3-5 minutes for the average HDTV to do an automatic search for over-the-air HDTV channels. After about 4 minutes, our TV reported finding 68 digital channels! Included in those channels were full HD local affiliates, such as ABC, NBC, CBS, and Fox News. Cable providers charge $19-39 per month just for these channels. That means a person could get primetime TV for free.
Since TV broadcasts are digital (federally mandated as of 2009 in the US), a single broadcaster can have several subchannels with different content, essentially completely different TV channels coming from one source, which is why it's possible to receive 5 channels from one local TV station, for example. There is no monthly, annual, or hidden fees for using antenna TV.
Why Pay For What You Can Get Free?
We've previously discussed how cable TV providers continue to increase their costs, have a huge amount of customer complaints, terrible service, too many ads, and are even engaged in false and misleading advertisements. It's amazing to think that the average family spends $150-$300+ per month for digital cable service, especially when whatever they are watching is available for a fraction of the price, or even free.
TIP: Can you get free digital TV in your area? Check with the FCC (in the US) to see if you have free local digital channels. We've provided a link to the FCC's antenna signal map, which uses your zip code and displays a list of free TV channels you could get. Please note that a single channel can broadcast multiple feeds. If you see 10 channels, it might actually be 50 channels, for example.
Anyone can drop cable and save hundreds to thousands of dollars each year. Setup is a matter of selecting the antenna you want (typically under $40) and calling your cable provider to cancel your subscription to cable television service. You can even keep your high speed internet service without paying for cable television service.
Setup
Setting up this antenna isn't difficult. The white portion will face outwards and you will want to place this antenna wherever you get the most channels. You can get pretty creative with the placement, including inside windows, flat (below your TV), behind your TV (hidden), on the wall, or another place.
After finding a spot for your antenna, you will connect it to the power amplifier, plug it into the wall, and then connect the coax cable to the antenna input on the rear of your HDTV. Before running an automatic channel search through your TV's menu, you will select "air" or "ATSC" for your input. The channel scan will use your connected antenna to find HDTV broadcasts. Best of all, the broadcasts are free!
Be sure to run a channel search every time you move the antenna. Locate the antenna where you get the most channels. You might also run an auto channel search every few months, since local TV stations often add digital subchannels.
Technical Specs
The amplified FlatWave model suggests a 50 mile reception range for HDTV over-the-air Advanced Television Systems Committee (ATSC) broadcasts. The 50 mile range can be increased/decreased, depending on several factors. Users should note that this is average, depending on terrain, surrounding metal (line-of-sight), etc. You may be able to receive greater distances, especially if you properly locate your antenna, are within line-of-sight, and atmospheric conditions are favorable. During tests of this antenna model, heavy rain and thunderstorms didn't cause any reception issues, which is excellent.
The white antenna is virtually flat, about the thickness of a razor blade and is suitable for High Definition dual band (VFH/UFH) reception. Its dimensions are 13" x 12" (inches), which makes it appear similar to a square. Weight is not an issue, since the device is no more than 0.5 lbs (pounds). It is a multi-directional antenna design. A supplied 18.5' (foot) mini coax cable allows users to easily manipulate the cable and hide it along trim or under carpet.
If you purchased the amplified model, like this one, you will also get a 3' foot USB power cable (110V) with wall adapter. You can either plug the USB power cable into your TV's available USB port or use the supplied adapter and plug it directly into the wall.
Final Thoughts
At the end of the day, this device will save you money. It works best for people that are inside major cities, where the most broadcast TV channels are located. You will save money by cutting off your cable TV subscription and using this device. You can always keep your high speed internet subscription, no matter what sales pitch your provider pushes, stand your ground. Consider low cost alternatives to cable, such as Netflix, Hulu, and HBO internet, if you absolutely cannot live without that kind of content.
Don't waste your money on overpriced cable television services that are full of channels you don't want, excessive advertisements, hidden fees, and poor customer service.
Review Gist
Product:
FlatWave Antenna
Price:
$49.99-$69.99
Rating:

Difficulty:
Easy
We're giving the FlatWave amplified version a 5/5 stars because it works as advertised, is easy to setup, looks modern, and is extremely useful in today's economy, especially when people are hurting and need to save money.
We hope that more people will try this for themselves because it actually works. Think of what you could do with all of the money you will save.
The device we've shown here is about $50, available from most major retailers, such as Amazon, Walmart, and Best Buy.