Weather Channel unethical? Lawsuit: TWC storm chasers ran over 80 stop signs, leaving 3 dead
Mar 27, 2019 @ 11:22 AM ET
By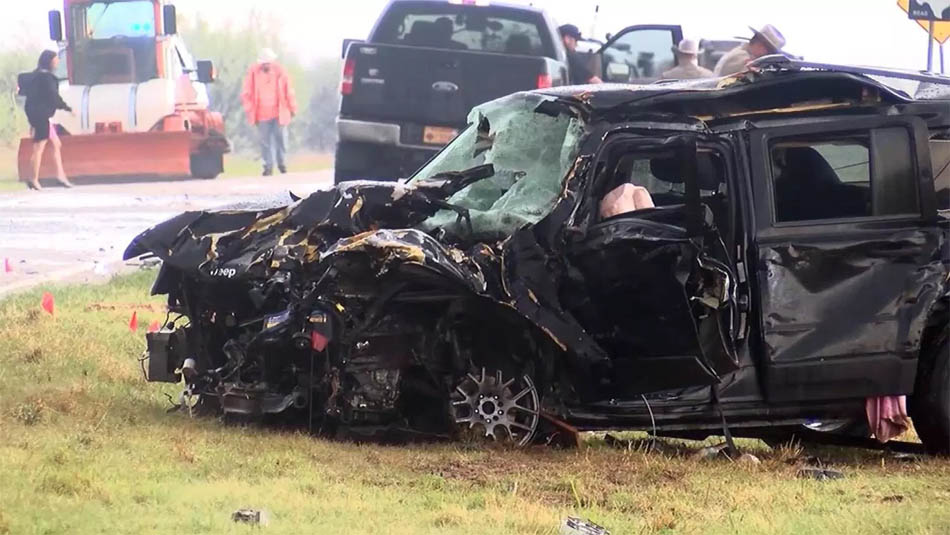 A massive $125-million-dollar wrongful death lawsuit was just filed against The Weather Channel and the details of the lawsuit are shocking. Dashcam technology seems to show damning evidence of the claims described in the lawsuit. Two Weather Channel storm chasers ran through at least 80 stop signs and 4 red lights, resulting in the deaths of three people. ULTRA TechLife has obtained and edited dozens of videos that seem to show damning evidence of reckless driving, including video from the day of the fatal accident. If true, this could be one of the largest scandals in the Weather Channel's history. The details in the lawsuit are so disturbing that it might mean it's time to boycott the Weather Channel because this is unacceptable and dangerous to the public.
Lawsuit Details
The mother of 25-year-old storm chaser Corbin Jaeger filed a wrongful death lawsuit against the Weather Channel (March 25, 2019). A 28-page document details how two Weather Channel storm chasers had a long history of reckless behavior, that the TV network knew about, enabled, and encouraged dangerous driving, and that many other storm chasers tried to warn the Weather Channel's upper management about them. The storm chasers blew through a stop sign at 70 miles per hour, killing her son and themselves. The two Weather Channel chasers, Kelley Williamson and Randall Yarnall, had a long history of blowing through stop signs and red lights, much of which can be seen on their own public YouTube storm chasing channel.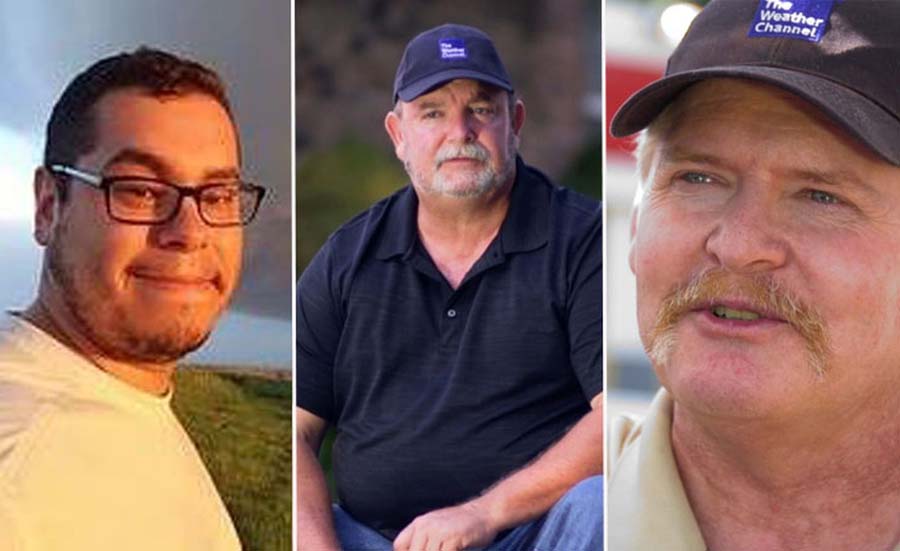 In the town of Spur, Texas on March 28, 2017, Yarnall and Williamson (stars of the show Storm Wranglers) were driving a Chevrolet Suburban SUV on behalf of the Weather Channel. They ran a stop sign at 70 miles per hour while racing towards a tornado, killing Corbin Jaeger in his Jeep Patriot. Jaeger had the right of way on westbound FM2794. All three died as a result of the collision.
Live Stream Technology
Numerous videos show the two Weather Channel storm chasers running stop signs and red lights in multiple states as they were streaming live video. In addition, the two can also be seen driving around neighborhoods that were severely damaged from tornadoes with no first responder or emergency training, it seems not to help people but to get video and interviews for the Weather Channel.
One bizarre video shows the two picking up injured people and broadcasting an interview without consent to the entire world as they sat in the back of their storm chasing vehicle. One man was in obvious pain and stated he thought he had broken ribs and a broken leg as a result of a building falling on him after a tornado hit their home in Hattiesburg, Mississippi. Somehow, the focus seems to be on suddenly broadcasting the two from the back seat. Yarnall and Williamson also had flashing lights on their car, the unsuspecting public might have thought they were trained emergency officials – clearly they were not.
The lawsuit details how the Weather Channel hired the two, bought them tech equipment, paid for gas, sponsored, told them where to go, what to do, and who to interview, indicating an ongoing business relationship continued – even up to the very last video where they run another stop sign and tragedy happens. Williamson had told everyone he worked for the Weather Channel and his Facebook page listed them as his employer. The reckless behavior seems to have occurred while acting as employees in a business relationship with the Weather Channel. There seems to be significant communication between the two chasers and the Weather Channel, including the ability to monitor, control video, stream to Facebook, on the cable channel, and a feed back to the truck. They were obviously able to monitor and communicate with the two storm chasers on a very frequent basis.
The Weather Channel Ignored Warnings
There are accounts of how several other prominent storm chasers attempted to notify the Weather Channel and its upper management about the two's dangerous behavior, the fact they had no idea what they were doing, had no emergency training, were not experienced chasers, and that someone was going to eventually get killed. The warnings seemed to fall on deaf ears.
The lawsuit alleges that the Weather Channel enabled and encouraged the behavior — and they had previously aired live video of the two behaving dangerously.
Williamson's YouTube channel, in just 14 of the 223 videos posted on it, shows the pair running at least 80 stop signs, 4 red lights, and 1 out-of-service traffic light.
Some chasers questioned why the Weather Channel would hire these two:
"TWC knowingly chose two chicken farmers and cattle ranchers from Missouri without any emergency/first responder or meteorological training to star in their show. TWC then instructed them to barrel into dangerous weather conditions to obtain footage, needlessly endangering local residents fleeing impending catastrophe and trained first responders."
On December 4, 2016, about 4 months before the tragic accident, one storm chaser wrote to the Weather Channel's Storm Wranglers producer and a meteorologist, stating:
"As far as Storm Wranglers: I understand the need and fact for 'dumbing down' for the general public. But I'm gonna be honest here (and I hope you take no iffense at what I am going to say please… the fact of the matter is that you have 2 very inexperienced, new uneducated 'chasers'…. talk about liability. See where I am going with this?…. I'm not gonna badmouth Kelly but I'm not gonna lie either."
Then on March 4, 2017, just 24 days before the final video, after the Weather channel had aired a segment showing Williamson traveling over 90 mph to try to reach a storm:
"He put himself in a VERY bad spot, live on air, so god forbid if anything happened we would have seen it happen live on air. NOT GOOD."
Later that day, March 4, 2017, another chaser responded:
"Doing 90+mph to get to the position he was is just asking for bad stuff and showing or talking about it on his live stream. I just hope he truly understands the risks associated. We are just hoping he doesn't get hurt or hurt anyone else."
Some storm chasers say they've also witnessed the pairs behavior and tried to educate them but they wouldn't listen to good advice.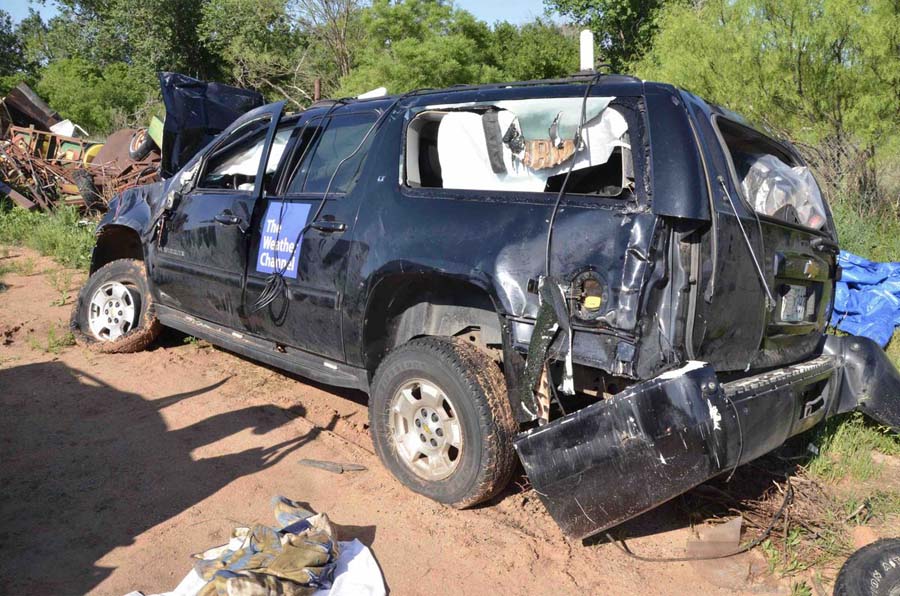 Disturbing Details
What was the Weather Channel attempting to do, minutes after the fatal traffic collision? The lawsuit describes how a storm chaser was the first on the scene to the fatal accident, even before emergency personnel:
Upon arrival, he immediately contacted TWC to notify them that one of their vehicles was involved in the collision, which he easily deduced by virtue of the large TWC logo on the Suburban. He also recognized Williamson on the side of the road as he was being administered CPR. This witness immediately notified Jim Cantore, a well-known on-camera meteorology at TWC. Shortly after doing so, while this witness was speaking to a police investigator at the scene, he received a phone call from a woman who claimed to be affiliated with TWC.
This woman told him, "you've got to get the cameras. Get the cameras." The individual responded that he would do no such thing and the call ended.
However, minutes later, he received a second phone call from a male subject who also claimed to be affiliated with TWC. This male subject also told him, "Go get the cameras."
Moments later, another person at the accident scene approached this individual and stated that he, too, had received a call from TWC with instructions to grab the cameras. The individual told this person not to take the cameras, as it was a crime scene.
Was the Weather Channel so cold, heartless, and greedy that it was desperate to get the video to air? Or were they trying to tamper with evidence at the scene that might point to them as somehow responsible for this tragic mess?
Unacceptable Behavior
These two storm chasers were a danger to the public, while they were storm chasing for the Weather Channel. The lawsuit presents compelling evidence that the Weather Channel should have at least some responsibility between the three deaths — and to prevent this from happening again within their own business operations. There's no defending someone that runs 80 stop signs. And the storm chasing community should distance themselves from figures that give it a bad image and endanger the general public.
The general public shouldn't put up with this and should voice their opinions to the Weather Channel. This kind of behavior puts innocent people at risk. This could have been someone you love. Is it worth running a stop sign and killing innocent people just to get ratings for the Weather Channel? Maybe it's time to boycott the Weather Channel.
ULTRA TechLife has linked to the court document referenced in this article.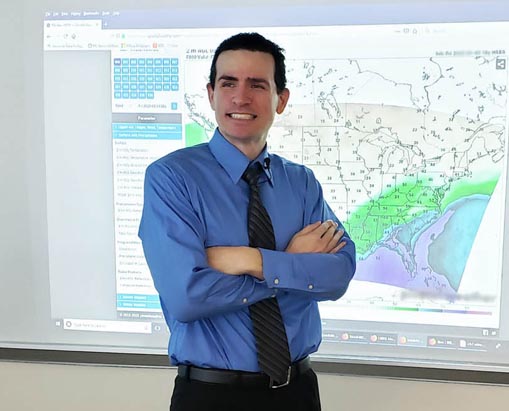 Author:
Ben Alonzo is one of the world's most unique science and tech experts. He founded ULTRA TechLife and is the CEO of the tech firm Storm Sector, LLC. Ben holds an MS in Information Technology, MS in Geoscience, MS in Health & Nutrition, and a BS in Geoscience. He is a highly rated professor that teaches a wide variety of college courses within earth and environmental sciences as well as within computer sciences and public health. His diverse background spans information technology, cybersecurity, healthcare, weather forecasting, consumer electronics, graphic design, web development, and business leadership. He holds numerous professional licenses and certifications, ranging from information technology to healthcare and emergency medical technician. Ben is a tech entrepreneur and is business partners with multiple restaurants. He is a fitness pro, health scientist, a licensed private pilot that loves flying, and enjoys independent filmmaking. He has written about science and tech for over 10 years. You can see some of his past articles on the Houston Chronicle, Heart, and other networks. In his free time, he likes scuba diving, storm chasing, traveling, making music, and drones.
More about author.