Radio Shack files for bankruptcy again within 2 years: Is this it?
Mar 12, 2017 @ 1:22 PM ET
By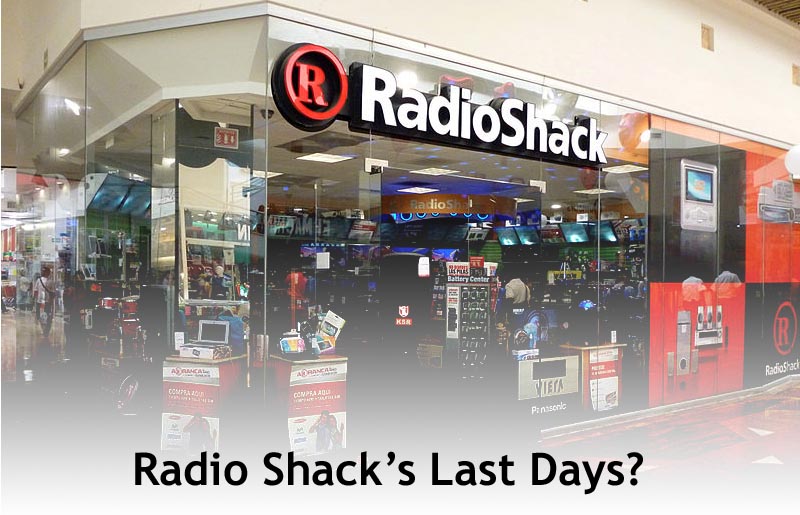 We're watching the end of a 1990s-era consumer electronics retail business model unfold. Radio Shack filed an emergency motion on March 8, 2017, its second Chapter 11 bankruptcy within 2 years. Court documents show they may potentially close all remaining retail locations. This shouldn't be a surprise because they didn't keep up with the pace of consumer technology and the online marketplace. We're likely in the last days of Radio Shack. We've got a list of some of the stores closing and an updated report about RadioShack.com inventory.
The Last Days of Radio Shack
Radio Shack was founded in 1921 and grew popular by the 1980s and 1990s, primarily because of its early collection of electronic parts, scanner radios, basically products that were hard to find elsewhere. The rapidly shifting consumer electronics marketplace means corporations must quickly anticipate trends, newer technologies, outdated business models, and the popularity of online stores. There is overwhelming evidence that suggests Radio Shack and its leadership have failed to maintain relevancy in today's tech world.
Court documents, filed in a Delaware, point out that Radio Shack "operates nearly 1,500 retail locations, all on leased premises." The motion also means Radio Shack will "seek authority, but not the obligation, to close and liquidate the inventory and other assets of between 530 and substantially all of their stores." Some of the stores closing will include Sprint "integrated" locations.
Consumerist recently reported a list of nearly 200 local Radio Shack stores that was extrapolated from a Delaware bankruptcy filing. The list appears to be accurate and likely will include more locations. Many of these stores will close within the next 30 days.
There is some evidence, as of late 2016, which seems to suggest Radio Shack will soon be completely out of business.
ULTRA TechLife has been monitoring inventory on the RadioShack.com website and noticed several areas have been all but eliminated of products.
For example, Radio Shack was once well-known for selling scanner radios. In fact, Radio Shack was known for selling "specialty electronics."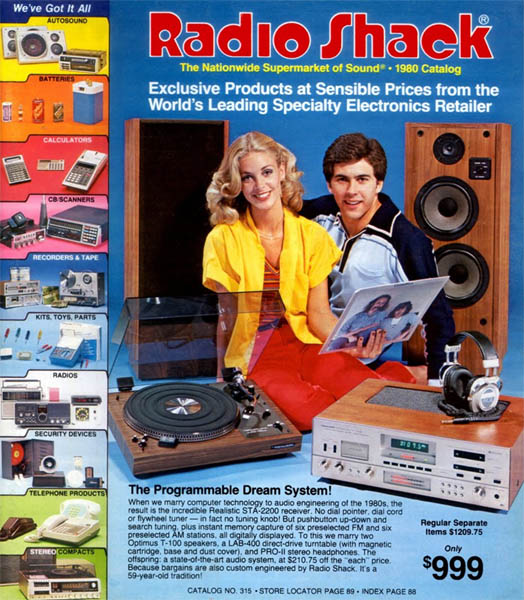 RIP: Radio Shack. You used to be able to find new, awesome things at this store!
As of March 2017, the scanner radio section only has two items left, which is a dramatic reduction of what it once offered.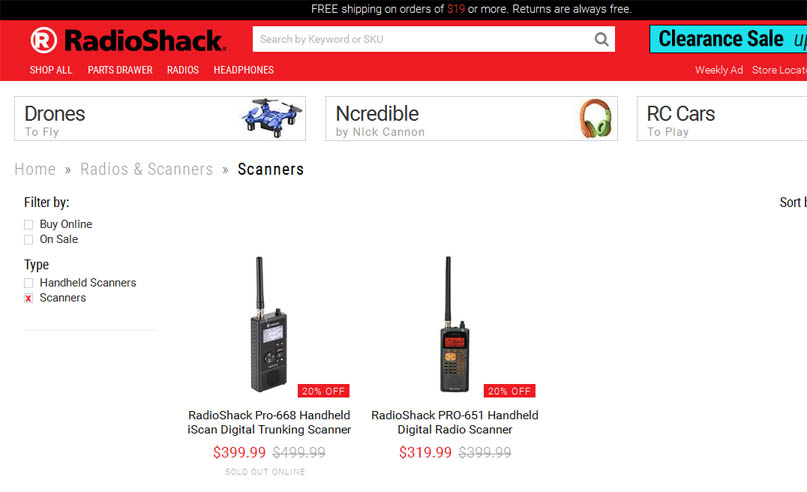 Much of the other sections of its online catalog continue to show a large amount of products as "sold out online."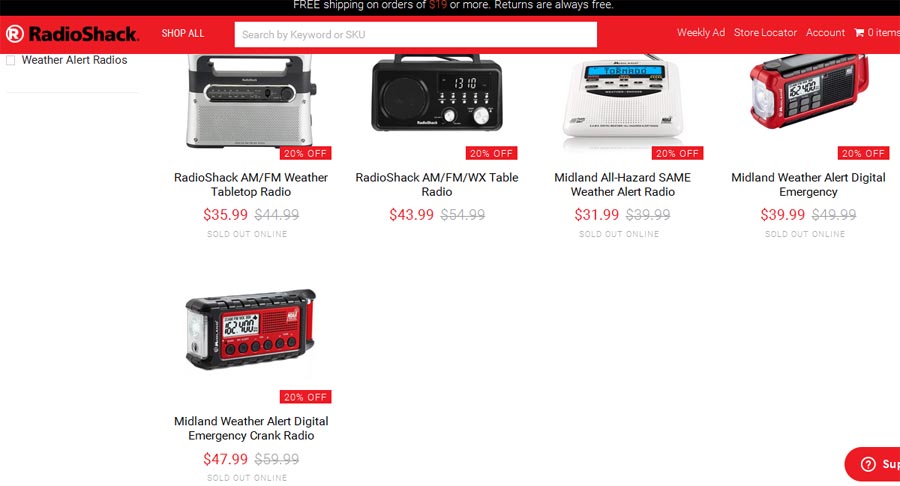 Reduction of products and the discontinuation of maintaining stock would seem to indicate Radio Shack is on its way to completely closing.
In 2015 and 2016, ULTRA TechLife interviewed several Radio Shack store employees and toured some of the "clearance sales" that took place. Radio Shack was sending items to certain locations as a way to liquidate them from stock. Although employees told us that they performed better than some locations, overall sales were very low. Some stores stayed open while corporate moved merchandise between them to try and get rid of it. Within two months, both of the locations we observed had gone out of business, closing their doors permanently.
Radio Shack redesigned many of its stores a few years ago, but the new design didn't catch more customers. The retailer also tried to stock their shelves with popular consumer headphone brands and remote control toys. In another desperate effort, many retail locations were turned into quasi-cellular stores, branded by Sprint. All of these efforts failed to gain Radio Shack more customers.
"It's a big empty store with products I can get anywhere else," says Jake from Florida. "I mean, empty. Very bright, but empty."
Shoppers like Jake point out that Radio Shack no longer offers enough unique electronic products and that most of their inventory can be found everywhere else.
In December 2016, ULTRA TechLife previously wrote about the bizarre corporate leadership decisions of Radio Shack, such as designating the host of America's Got Talent as its creative officer. We pointed out that the writing is on the wall: Radio Shack's days are numbered.
Consumer Alert
Because there is a strong possibility that Radio Shack will soon go out of business, the fact that it has filed for bankruptcy twice within 3 years, its previous store closings, and release from claims that comes with title 11 bankruptcy, we recommend that consumers discontinue buying products from Radio Shack. In addition, we recommend to avoid purchasing any kind of gift card or credit card from Radio Shack. If approved, and if the retailer goes out of business, customers may lose the ability to return products, gain warranty service, receive refunds, or have their gift cards redeemed. We've also seen a majority of consumer electronics products that Radio Shack offers available (many times for a lower price) at nearly every other major retailer. However, consumers might want to watch for liquidation sales at their local Radio Shack retail location, since electronics may be sold at a very low price as part of the bankruptcy liquidation plan.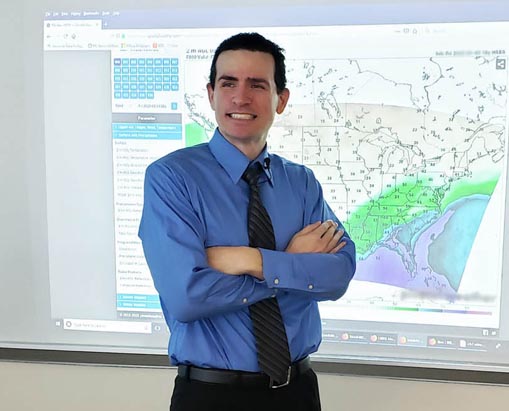 Author:
Ben Alonzo
is a unique scientist, tech expert, professor, and director of
ULTRATechLife.com
. He's CEO of the sci-tech firm
Storm Sector, LLC
. Ben holds an M.S. in Information Technology, M.S. in Geoscience, M.S. in Nutrition and Health, and a B.S. in Geoscience. He's a highly-rated professor that teaches earth science, environmental science, oceanography, meteorology, and public health. His diverse background spans numerous fields, network and computer systems, healthcare, weather forecasting, consumer electronics, and web development. Ben holds numerous professional licenses and certifications, ranging from information technology to healthcare and emergency medical technician. He's also an FAA-licensed private pilot that loves flying. He's been writing about science and tech for over 10 years. You can see some of his past articles on the Houston Chronicle, eHow, Hearst, and other networks. In his free time, he loves athletic adventures, scuba diving, traveling, storm chasing, producing videos and writing guitar music.
More about author.
---