Narcan overdose kits may be too expensive for many, especially the uninsured
Nov 16, 2017 @ 10:01 PM ET
By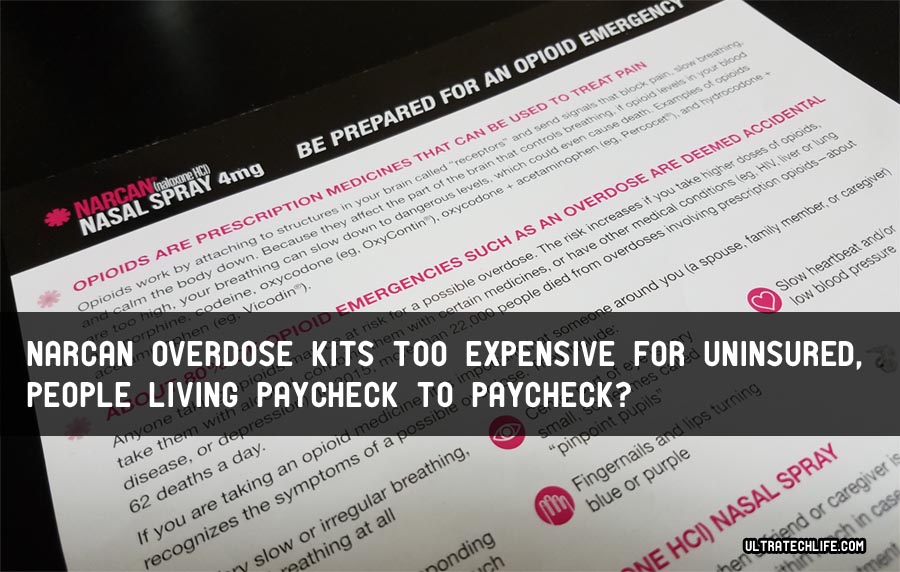 America's in the middle of a prescription drug opioid overdose death epidemic, but the $140 Narcan emergency nasal spray kits may be too expensive for people already living paycheck to paycheck. The nation needs to discuss prevention and health science education as well as healthcare reform. Almost double the amount of people now die from prescription opioid overdoses than illegal street heroin overdoses. A majority of Americans are on some kind of prescription drugs and the consequences are terrible. In order to be effective, lifesaving programs must be available to everyone, at low-to-no cost, and easy to access.
Overdose Epidemic
At least 90 Americans die every day from overdosing on opioids, most of which are prescription medications. This costs about $78 billion a year, in terms of economic burden to the country. Think of what we could do with almost $80 billion in savings from this single issue, which is almost completely preventable. Preventable deaths also have a horrible lasting effect on surviving family members. It's time to talk about a problem that's out of control: overprescription and overdose trends.
According to the Mayo Clinic, as of 2013, at least 70% of Americans are on some kind of prescription drug and more than half take more than one. A dramatic increase in inappropriate drug prescription with psychiatric drugs have introduced an even more complicated picture involving deadly drug interactions. Deadly interactions between prescription painkillers and psychiatric drugs, such as Xanax, account for around 30% of deaths. The Centers for Disease Control and Prevention data indicates that prescription drugs now kill more people than illegal street drugs, such as heroin.
Heroin was one particular drug that journalists once described as "ravaging the United States" back in the 1970s and 1980s. People of all ages were getting hooked and the deaths have increased since that time.
By 2013, twice as many people now die from prescription-opioid drug overdoses than from heroin overdoses. A shift has occurred and now means people have a "legal drug dealer" providing them with the drugs that would eventually kill them. Scientists call this a shift from illicit "street" drugs to a system of inappropriate overprescription, likely driven by junk science, poor oversight, and pharmaceutical marketing.
Naloxone was approved by the Food and Drug Administration (FDA) in 1971. There were several versions of the medication that ranged from 0.4 mg to 4 mg doses. Initially, it was an injection dose, but later versions included auto-injection (Evzio) and nasal formulations (Narcan). Auto-injector doses were fast-tracked by the FDA because of the growing number of overdoses and the ability of fixed-doses to be used by people without medical training.
The results of overdose reversals were even better when emergency medical professionals used Narcan. In one community example, first responders were given 4 mg Narcan Nasal Spray kits (NNS). Provided that their response time to scene was less than 5 minutes, the overdose reversal rate was as high as 98.8%. Most successful overdose reversals occurred with less than 2 units of the medication. When you have a program or technique that is close to 100%, it's certainly worth consideration, especially if it can be scalable to the rest of the country. The side effects of NNS were very acceptable, considering that it has such a high success rate – and because it's responsible for saving lives.
A 2017 study that appeared in the European Journal of Clinical Pharmacology further stated that NNS medication delivery methods had a rapid systemic uptake and higher bioavailability than IM/IV in its high concentration, low volume formulation, by 15 minutes post-delivery. Serum tests were done by way of liquid chromatography-tandem mass spectrometry. This is a strong indicator that NNS is especially appropriate in the pre-hospital setting to reverse some of the most common opioid overdose cases.
There are some challenges to nasal delivery. Nasal secretions, for example, can effect drug absorption. However, pharmacology research may be finding solutions by using bioadhesives that increase the drug residence time. This enhances the therapeutic effect of a medication, specifically for the overdose reversal circumstances being discussed here.
Medical Purpose
Emergency medical professionals have a wide variety of medications that are used in the pre-hospital setting. Although people can be brought to the emergency room, many overdose cases occur at home or on the streets. One particular drug has the specific purpose of reversing opioid overdoses. Naloxone (trade: Narcan) is an opiate antidote that can be administered subcutaneously, intramuscularly, or intravenously. The typical dose ranges from 0.4-2 mg in 2-3 minute intervals, up to 10 mg. The indications for use involve the necessity to partially or completely reverse narcotic depression that occurs due to suspected acute opioid overdose.
Addressing the Epidemic
We've let America's overprescription and drug addiction problem snowball for decades, which makes how we fix it much more complicated. Nearly every level of government has to reexamine how existing policies and procedures either enhance or obstruct efforts to combat drug overdoses. Since the prevalence of prescription drug overdoses is so high, it requires a high amount of resources and funding to adequately address the problems.
Drug overdose accounts for more deaths than guns or traffic accidents, according to CDC data.
In 2012, Florida became one of many states that drafted legal measures, known as the 911 Good Samaritan Act, which provides that a person acting in good faith effort, minus any other circumstances, would not be otherwise prosecuted for making a good faith effort to obtain or provide medical assistance for a person experiencing a drug-related overdose. As of 2016, 42 states grant some kind of criminal or civil immunity to the bystanders that have or use illegal drugs when they render emergency aid to someone that has overdosed. The idea is to encourage more people to take action and be free from the fear of punishment, in exchange for saving a life. These programs are a late incentive to preventing deaths from opioid overdoses, unfortunately. The nation waited so long that it now has to react to a problem that has been snowballing for decades. This is a direct result of the failure of health education and prevention systems.
Rather than spend billions on reduced productivity, extensive hospitalizations, early death, and insurance payouts, a renewed effort to find ways of low cost, fast, lifesaving techniques had to be available to the average non-medical individual. Research shows initial investments that reduce overdose or early death are worth their cost. In the case of Narcan distribution programs, investments could increase cost initially, typically costing several thousand dollars. The cost is primarily a matter of the Narcan kit pricing, which isn't cheap. Most of the cost goes towards the drug kits, but some costs have to be allotted for training. Training can range from simple instructions on how to apply nasal sprays to more advanced emergency medical professional techniques involving IM, IV, and ET delivery points.
Out of Reach?
Last week, ULTRA TechLife met with a representative from Walgreens Pharmacy to discuss a national Narcan access program. We were provided corporate documents that briefly described America's overdose epidemic and how a nasal spray kit could help save lives. Walgreens also issued an October 2017 press release that announced it would be carrying Narcan nasal spray kits in all of their pharmacies. Narcan nasal spray kits would be available to the general public for purchase without any prescription. We were assured that no questions would be asked of people purchasing the kits. Although they provided free training kits to pharmacists, the Narcan kits are not free to the general public. In fact, we were told the price is about $140 for just one kit. The fact that the kits are available is a positive accomplishment. However, the price may mean the entire overdose reversal program, at least the one at Walgreens, is doomed for failure.
America's broke. People are living paycheck to paycheck. A family with drug addicts probably already has extensive medical costs and there's a high likelihood that they cannot afford to come up with almost $140 just to buy one Narcan emergency kit. One could argue that a life is priceless, but not very many Americans can afford such a high price, especially when they have expensive house, rent, car, insurance, food, kids, and other living expenses to address.
It's very important to consider the variety of drug addicts and their households. It may be likely that they do not have health insurance, which means they would be responsible for the full cash cost of purchasing a Narcan kit. Effective drug overdose programs must extend to the entire population, not just those with health insurance. This is only an issue for America because it has not implemented universal healthcare. Access to preventative and ongoing care is inconsistent, creating a huge hole where millions fall through the cracks, go untreated, die early, and end up costing the nation exponentially more in the short and long-term.
A drug overdose reversal program cannot be effective when its pricing keeps it out of the reach of the average American. Narcan should also be available for free to every certified emergency medical professional in the US, at least because of the outrageous overdose epidemic. Some argue that Narcan should be carried by all college professors, dorm managers, custodians, and anyone else around large groups of people. When you have such a large overdose epidemic, affordable (or free), easy, and fast access to solutions are a matter of life and death.
Next Steps
We must look forward as to how we will reduce drug abuse, inappropriate physician prescription trends, increase health education, fix our broken healthcare and insurance industry, in an effort to prevent future drug addiction statistics. There must be local, state, and federal efforts that fund effective research, education, and intervention efforts.
The 2016 Comprehensive Addiction and Recovery Act is an example of a pathway to solutions. Although not perfect, and difficult to account for exactly where money ends up, it does afford grant money for certain overdose reversal programs. This congressional act describes funding for tasks forces, community campaigns, education, and overdose medication access. The biggest mark for success will be whether we actually see more low-to-no cost access to overdose kits, effective education, higher prevention rates, and a marked reduction in overdose deaths. Another interesting aspect of where this bill fails is the fact that it doesn't clearly indicate a focus on physicians being held accountable for overprescription or otherwise inappropriate prescription (described here). Both physicians and patients have a responsibility to address individual health status.
Scientists describe America's healthcare system as both broken and corrupt. Medicine is great, applied scientifically. The problem exists when our current healthcare system is based on profit models rather than patient care or prevention. Healthcare should be a basic human right.
The possibility of the repeal of the Affordable Care Act, without replacing it with something better, will likely leave millions of people uninsured, sick, injured, and lead to more deaths and overdoses. Without insurance, programs like the Narcan overdose reversal kit will cost consumers whatever the manufacturer charges for it. Very few people can afford today's medical expenses and the astronomical prices of popular medications. Reducing the number of uninsured and underinsured should be a top priority for all levels of government.
Scientists continue to find ways we can address our biggest problems. They consider the advantages to disadvantages of policies and procedures, attempting to find a reasonable balance between the two factors. Narcan has been proven effective as one of many tools that should be used to combat opioid overdose deaths.
Advantages
Although a reactive measure, Narcan is clearly effective in combating opioid drug overdose deaths. The price and easy use of the nasal spray kits can save a life for just $140. The drug is quick-acting and has acceptable side effects, considering its purpose. There are reduce cost programs for direct order purchases from the manufacturer and some health insurance policies may cover purchase of the medication at a reduce cost or associated copay. In addition, certain pharmacies may have a members club that offers a slightly reduced cost of some Narcan kits.
Disadvantages
All drugs have side effects, some are more serious than others. Narcan side effects can involve withdrawal (common) to seizures and death (very uncommon). This is not a comprehensive list of side effects. The approach to evidence-based, ethical medicine operation is that an intervention's benefits outweigh their consequences. Narcan is an example of a medication that most commonly has more benefits than consequences to its use.
The average person might not know when to use Narcan and without immediate access to a kit (less than 7 minutes), the chances of survival decrease. Emergency medical professionals have expert training on when to administer Narcan. However, an untrained bystander may hesitate or otherwise not know when and how to use Narcan in an emergency situation. This could result in a delay or otherwise reduce the success rate of a possible overdose reversal.
As mentioned above, the current cost of the Narcan nasal kit at Walgreens is about $140, which is not affordable for most Americans. Without a supplement or discount, very few people can afford such a price.
Future
Ideally, America's health problems could be reduced by effective science and health education, a modernized, adequate healthcare industry, health insurance reform, holding physicians responsible for overprescription, promoting evidence-based medicine, treating drug abuse as a health problem rather than a crime, and promoting personal responsibility. The current drug abuse epidemic involves many complicated aspects and has been going on for decades.
In the near future, as long as the opioid use epidemic continues, any emergency overdose resources must be immediately available, free of cost, and easy to access by all citizens. More research will also be needed to improve Narcan delivery and effectiveness.
Local, state, and federal regulatory bodies should do everything they can to ensure barriers to prevention and response to overdoses are reduced or eliminated, including allotting funding to such overdose reversal programs. It will take individuals and healthcare professionals working together to get the drug abuse problem under control and to become a healthier nation.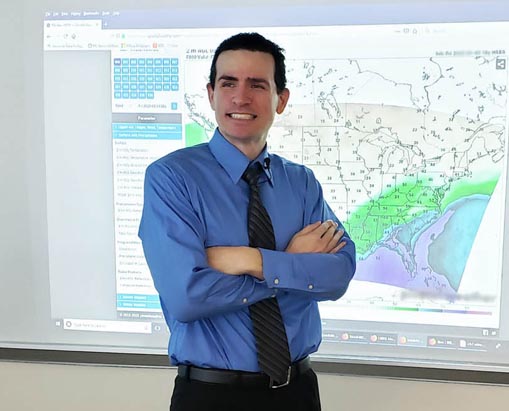 Author:
Ben Alonzo is a unique science and tech expert, professor, entrepreneur, and journalist. He founded ULTRATechLife.com and is the CEO of the tech firm Storm Sector, LLC. Ben holds an MS in Information Technology, MS in Geoscience, MS in Health & Nutrition, and a BS in Geoscience. He is a highly rated professor that teaches a wide variety of college courses within earth, environmental, computer sciences and public health. His diverse background spans enterprise information technology, healthcare, weather forecasting, consumer electronics, digital media, web development, and business leadership. He holds numerous professional licenses and certifications, ranging from information technology to healthcare and emergency medical technician. Ben is a tech entrepreneur and is business partners with multiple restaurants. He is also a private pilot, fitness pro, musician, and loves filmmaking. Alonzo has written about science and tech for over 10 years. You can see some of his past articles on the Houston Chronicle, Heart, and other networks. In his free time, he likes scuba diving, storm chasing, and the gym.
More about author.