Meteorologists issue rare, first high risk tornado outbreak forecast of 2017
Jan 22, 2017 @ 10:45 AM ET
By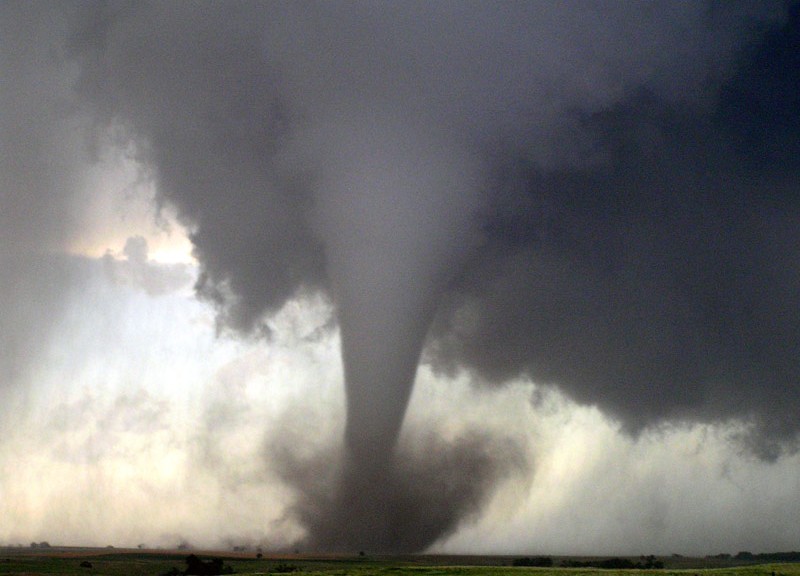 Meteorologists across the U.S. are paying close attention to portions of Florida, Georgia, and the Carolinas because the key ingredients for a large severe weather outbreak are present. Recent weather models show a high probability of large hail, tornadoes, and damaging winds by this afternoon and evening. Scientist are alerting the public to be ready for deadly destructive storms and to have a disaster plan of action. Regardless of what happens today, the public should realize that our scientific weather models are reliable and accurate, despite never being a 100% representation of the actual atmosphere.
High Risk of Severe Weather
The Storm Prediction Center is the government agency that issues severe weather watches for the U.S. A high risk severe weather outbreak is rare and should be heeded. There is an interesting table of high risk dates at Wikipedia. The last time there was a high risk severe weather forecast was back in June of 2014.
A high risk severe weather forecast must meet specific criteria, such as 30% tornado probability and 10% or greater probability of an EF2 or greater tornado. You can also issue a high risk severe weather forecast if there is a 45% or greater probability of a tornado or 60% severe wind probability and a 10% or greater probability of a wind gust of 75 mph or above. It's particularly dangerous when there is a high risk of tornadoes because it often means long-track, strong tornadoes are likely.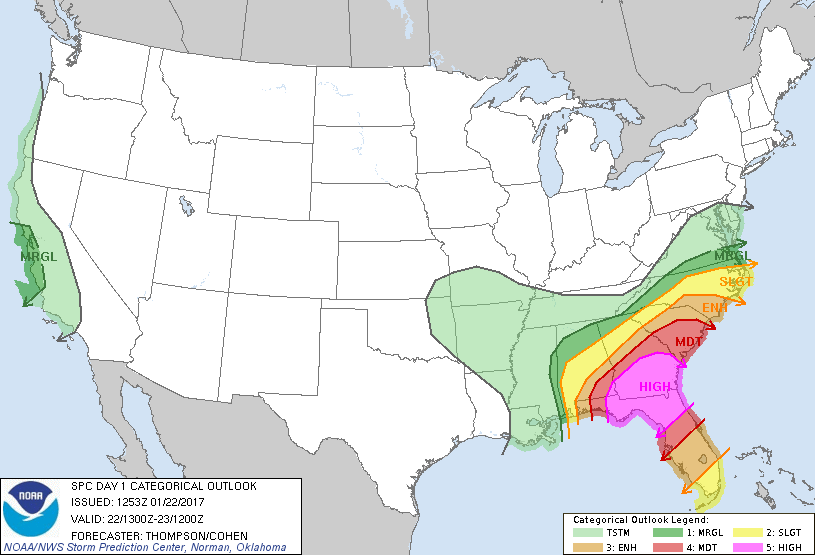 High risk days should be taken seriously. Statistically, a 60% risk of tornadoes means that there is a 60 times greater chance of a tornado occurring within the forecasted zone (shaded region) above the normal odds, if your normal risk is 1% on this date. The Storm Prediction Center uses statistics to estimate the risk of certain types of severe weather. Today, the probability of seeing a tornado, if you are within the shaded region (high risk area) is 60%.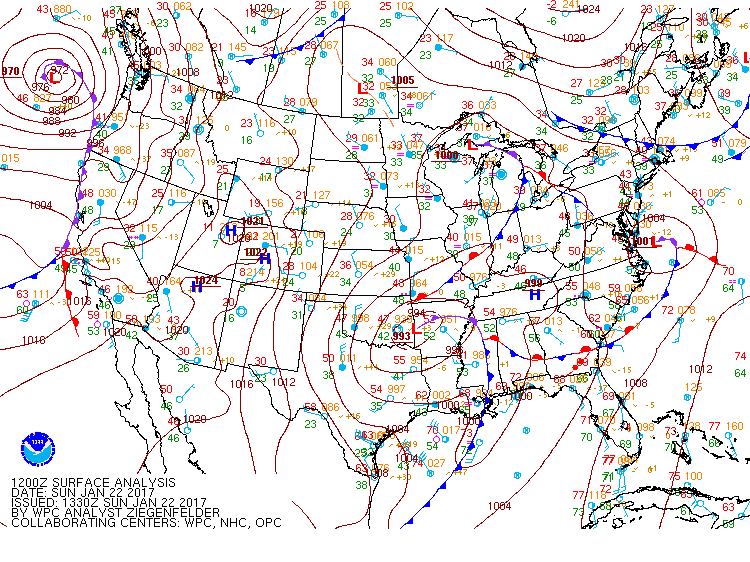 The focus for severe weather will be along and ahead of a cold front that will be moving eastward through Florida, Georgia, and the Carolinas this afternoon and evening.
Southerly flow is bringing lots of warm moist air into Northern Florida, Georgia, and South Carolina. As of 9:55 AM (Eastern) this morning, much of Florida was in the mid to upper 70s. This trend will continue into the afternoon, with much of the area forecasted to get into the 80s. Warm moist air is a key ingredient for severe weather.
The great thing about weather these days is our amazing ability to use real-time weather models. These models have become much more accurate than even 10 years ago. One such model is the High-Resolution Rapid Refresh (HRRR). We give short names to all of our models to make it easier to communicate with each other. During severe weather threats, real-time data is critical. The HRRR updates hourly with 3 km resolution grids.
The HRRR 13Z RADAR Reflectivity Factor shows ongoing convection bands that extend from South Carolina into eastern Louisiana. It will be interesting to see if this line of storms can clear out before maximum daytime heating occurs. We look for untapped zones of maximum instability when considering the areas for highest severe weather risk. Ongoing precipitation sometimes taints the potential energy environment for storms.
The Rapid Refresh (RAP) 12Z model output shows lots of moisture entering Georgia and the Carolinas by afternoon (18Z-20Z). It looks like higher dew points will cover much of the southeastern U.S., which will enhance instability in the region. The typical tornado outbreak environment will have dew points at or above 60° F. The dew point is a measurement of moisture in the atmosphere. Moisture contributes to a lower temperature rate of change in the adiabatic process, enabling air to rise higher than it would in stable air. The typical severe weather outbreak will involve ample moisture in the region.
We also look for dynamic wind shear favorability. Things that enhance tornado risk include changing winds with height, veering with height, backing with time, and a nearby jet. A jet is an area of maximum winds. Today, it looks like we will have a jet near northern Florida by 22Z (5pm Eastern) around 80 kts (~ 92 mph), which is pretty decent for severe weather. A low level jet will enhance updraft strength, which is a key ingredient in tornado forecasting.
It looks like Georgia, South Carolina, and portions of North and Central Florida may likely see a higher risk for severe weather between 3pm to 8pm today. The HRRR model forecasts a line of potentially severe storms to extend through much of Central Florida by 0Z (7pm Eastern).
Forecast Reliability
It's really important to remind the public that high risk severe weather forecasts are rare. Sometimes our forecasts do not pan out exactly as predicted, but forecasting is never a 100% outcome. Our models never exactly represent the real atmosphere, but they are accurate and reliable enough to make confident decisions. When numerous ingredients come together, it has been scientifically proven to increase the risk of tornadoes, large hail, and high winds. Remember that it doesn't take a tornado to kill you or damage property. Winds can bring down trees, which have killed people before. Always take severe weather watches and warning seriously.
The rarest of severe weather makes for good TV ratings. People may see lots of hype before, during, and after severe weather. Sometimes the media can sensationalize things to the point where the public ignores or downplays the actual risk perception. If you want weather information only, without the commercials or hype, check out the Storm Prediction Center website or your local National Weather Service website. Free 24 hour weather information is always just a click away. Regardless of what happens, the public should not lose faith in the ability, confidence, or accuracy of our professional weather forecasters.
Severe Weather Preparedness
It takes seconds for high winds or a tornado to destroy your home. Being prepared may mean the difference between life and death. If you're in or near the high risk area, you should pay close attention to local television, NOAA Weather Radio, emergency management, or radio for the latest watches and warnings. Know where to go and what to do, if severe weather threatens your area. Stay indoors, away from windows, on the lowest floor, in a sturdy building. Surviving a tornado means surrounding yourself with strong structural material, preferably underground, while covering yourself with something like a pillow.
You can also sign up for severe weather alerts from your local media outlets, which is typically free.
FEMA suggests that you have a 3 day disaster preparedness kit with food, water, and other survival items, enabling you to be self-sufficient after a disaster for at least 72 hours.
The key to surviving severe storms is education and action.
Ben Alonzo is a meteorologist and professor of earth and atmospheric science at Valencia College.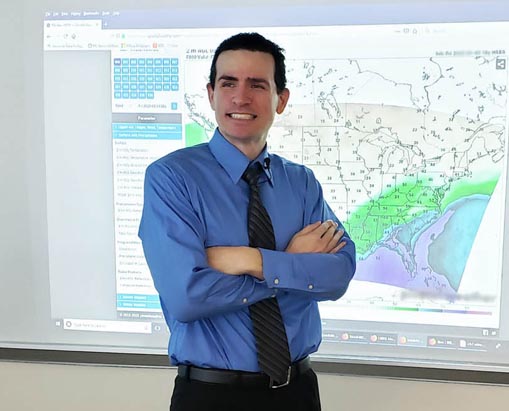 Author:
Ben Alonzo is a unique science and tech expert, professor, entrepreneur, and journalist. He founded ULTRATechLife.com and is the CEO of the tech firm Storm Sector, LLC. Ben holds an MS in Information Technology, MS in Geoscience, MS in Health & Nutrition, and a BS in Geoscience. He is a highly rated professor that teaches a wide variety of college courses within earth, environmental, computer sciences and public health. His diverse background spans enterprise information technology, healthcare, weather forecasting, consumer electronics, digital media, web development, and business leadership. He holds numerous professional licenses and certifications, ranging from information technology to healthcare and emergency medical technician. Ben is a tech entrepreneur and is business partners with multiple restaurants. He is also a private pilot, fitness pro, musician, and loves filmmaking. Alonzo has written about science and tech for over 10 years. You can see some of his past articles on the Houston Chronicle, Heart, and other networks. In his free time, he likes scuba diving, storm chasing, and the gym.
More about author.