LA cargo train thefts are indicator of greed and outdated infrastructure
Jan 14, 2022 @ 2:03 AM ET
By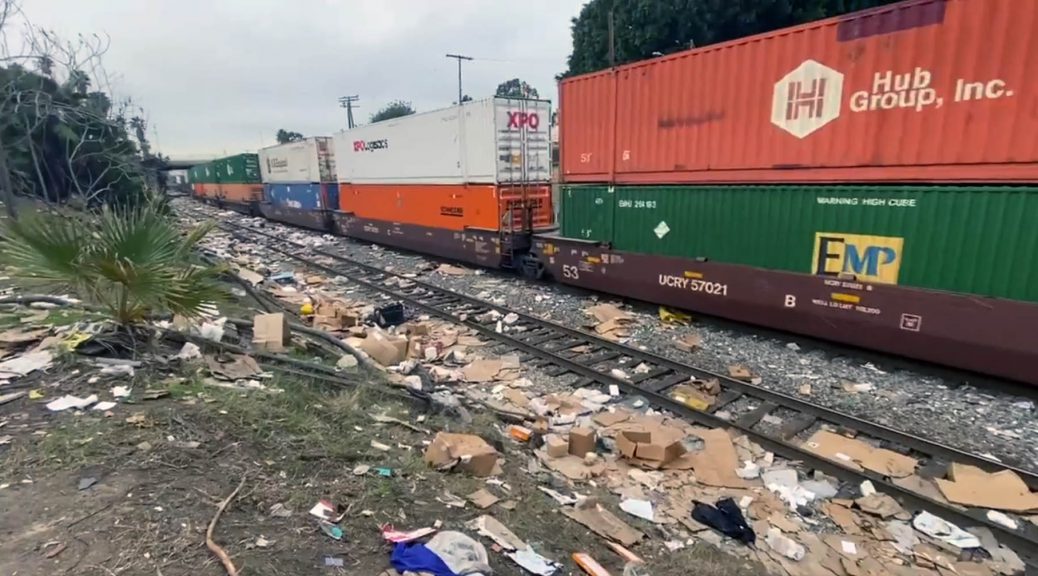 Thousands of boxes litter the ground in east Los Angeles, California – anything from electronics to COVID test kits are being stolen from cargo trains. Science problems are made more visible by news stories like this. Major retailers, such as Amazon, Target and REI were among the stolen packages most commonly targeted. Thieves look for FedEx packages, expecting to find valuable consumer goods. Thousands of open boxes, cardboard, envelopes, and other packing materials litter the ground — like a dump. You're package may be missing. This story is another example of greed and outdated infrastructure. The pandemic has highlighted what scientists have been saying — our outdated infrastructure is making things worse. And then there's corporate greed.
A drone video on Twitter shows the extent of the thefts.
Keep hearing of train burglaries in LA on the scanner so went to #LincolnHeights to see it all. And… there's looted packages as far as the eye can see. Amazon packages, @UPS boxes, unused Covid tests, fishing lures, epi pens. Cargo containers left busted open on trains. @CBSLA pic.twitter.com/JvNF4UVy2K

— John Schreiber (@johnschreiber) January 13, 2022
In another Twitter thread, UPS and FedEx can be seen answering people concerned about missing packages, some with very personal stories about what the packages contained.
When these train cars full of cargo stop to be processed, thieves move in, break the locks and take as much as they can. This is all cargo that is transported from the Port of Los Angeles and Long Beach, but it gets backed up — giving thieves a huge opportunity to partake in a buffet of products.
It's shameful to see such waste in a technologically advance country. Medical supplies litter the ground, never reaching those that needed it. Anything from baby car seats to electronics have been stolen from these trains.
As a public health expert, whenever I hear about medical supplies not getting to someone, especially in need, especially during a pandemic, this raises theft to a national security level of threat. It's not only an economic loss, but it interferes with life and safety needs of the public.
This problem has been going on for some time, especially near Valley Boulevard and North Mission Road in Los Angeles, California. This is in east LA and several news reporters have witnessed thefts while they were covering the story.
Greed & Waste
America has a corporate greed and outdated infrastructure problem. This becomes more visible (obvious) when certain stories make the news.
There is corporate greed, slave-like labor being used to produce junk goods, which are overpriced and solid to the average consumer, in an effort to make the largest possible profit for a corporation. These same companies treat employees terribly, many not paying livable wages or offering healthcare benefits.
There is individual greed. This is where a theft just wants to steal something to make money or because they just want more material things. Rather than legally buy something or work an honest job, they engage in this behavior. Scientists also study environmental influences that contribute to this behavior (how they were raised, neighborhood, education, income level, etc.).
Both corporations and individuals have engaged in wasteful behavior, which has a devastating impact on the environment and contributes to climate change emissions. Besides this, it contributes to harmful pollution.
Littering has been a problem for some time, but mass production has dramatically increased production. Companies are so big they can afford to basically throw away millions of products (and their boxes/packing materials), leaving a huge dump behind. Sure, it's a individual theft problem (people shouldn't steal), but it's also clearly a infrastructure and policy problem.
Outdated Infrastructure
We've known about outdated infrastructure for some time, it's a huge problem for nearly every industry. That's also why, partially, there was an infrastructure update bill recently in Congress – recognizing our outdated ports, roads, and rail systems.
Poor policies, including COVID-related prevention/response, highly impacts capacity. We are stretched very thin for resources within nearly every industry because of the poor pandemic response and political arguing. Imagine a nation-wide emergency that highlights the urgent need for upgrades, reform, and science, but leaders ignore the obvious… that's where we are today.
Rather than embrace science-based policies and infrastructure upgrades, we tend (as a country) to make things worse and let it get out of control – just like this interesting cargo train theft story.
More resources, better security, and higher capacity could help solve the cargo theft problem, but it is complicated and is a product of years of failure. It will not be fixed overnight.
Consumers will have to deal with the loss of their packages for now, unfortunately.
Outdated Infrastructure Impacts Everyone
Scientists have been discussing how important science-based policies are. Nearly every major problem today is a lack of governments, leaders, and the general public failing to embrace science. Some stories really make the science link more obvious.
As our population increased, conventional traffic system designs and mass car production caused traffic jams, for example. It's funny how infrastructure can be tied to things like increases in blood pressure or heart disease risk (research example), but the linkages are there. Conventional infrastructure also ages, creating new risks that only get worse if not addressed.
As you can see from the above linked research, these problems are actually linked to important economic, health, and security issues, which only grow in severity as they are ignored.
Carrying capacity is an environmental science issue, which also extends to transportation.
All of litter you see represents a carbon footprint, pollution, harm to the environment, failure.
America has a littering and over-consumption problem. The decline of the American dream is becoming more obvious. What lack of education, security, economic safety net is driving people to this specific area to break into cargo trains? How are they doing it?
Lack of Security
Many reports state the Union Pacific locks used to secure cargo cars on trains are easy to cut. This is an obvious mistake that has increased the risk of theft, making it easier for anyone to open and take anything from medical supplies to electronics items.
A CBS Los Angeles news station has observed crews trying to clean up trash from people stealing items, but it's a never-ending task that has to be repeated. Less than a month after one of their reports, the ground was again littered with an astonishing amount of packages and left over items the criminals didn't bother taking. Some of these discarded/stolen items included COVID test kits.
Side Note
Apparently, and it makes sense, package theft in the U.S. is at an all-time high, especially the past few years. Almost 2 million packages are lost or stolen each year, according to some estimates. A lot of people are working from home, buying products online, and lots of things are being delivered, sometimes by just random Amazon drivers. This presents all kinds of opportunities for theft, not just after the package is delivered — but along all points.
This is another story we are working on. Porch pirates, as they are called, are becoming more common but technology may help combat this. Tools like remote cameras and tracking devices are helping to identify thieves or alert homeowners as soon as someone tries to walk up to take the package. Stay tuned for more.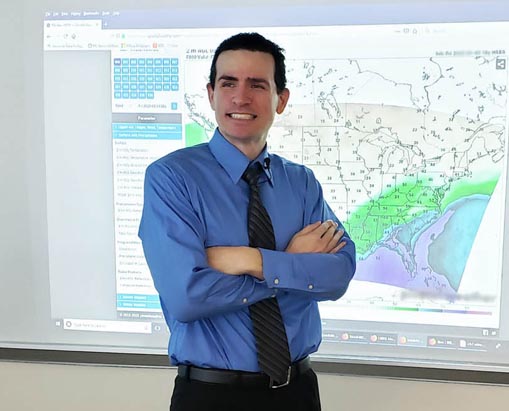 Author:
Ben Alonzo is a unique science and tech expert, professor, entrepreneur, and journalist. He founded ULTRATechLife.com and is the CEO of the tech firm Storm Sector, LLC. Ben holds an MS in Information Technology, MS in Geoscience, MS in Health & Nutrition, and a BS in Geoscience. He is a highly rated professor that teaches a wide variety of college courses within earth, environmental, computer sciences and public health. His diverse background spans enterprise information technology, healthcare, weather forecasting, consumer electronics, digital media, web development, and business leadership. He holds numerous professional licenses and certifications, ranging from information technology to healthcare and emergency medical technician. Ben is a tech entrepreneur and is business partners with multiple restaurants. He is also a private pilot, fitness pro, musician, and loves filmmaking. Alonzo has written about science and tech for over 10 years. You can see some of his past articles on the Houston Chronicle, Heart, and other networks. In his free time, he likes scuba diving, storm chasing, and the gym.
More about author.