AnyTone Tech TERMN-8R Dual Band Radio – Review
May 10, 2015 @ 9:33 PM ET
By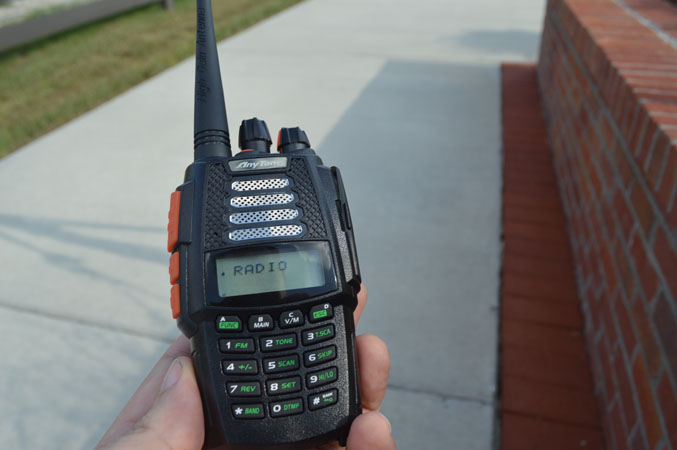 The TERMN-8R is a also unique emergency preparedness tool. You want this dual band all-in-one radio in your disaster preparedness kit. Check out our in-depth review of this radio from AnyTone Tech. We've already had our first tropical storm of the year. Are you ready for the next emergency? Disaster? The TERMN-8R offers VHF, UHF, shortwave receive, AM/FM radio receive, NOAA weather alert, encrypted discussion mode through FHSS, full duplex, cross-band repeat, and so much more.
The TERMN-8R
Radio enthusiasts and emergency communicators look for multiple capabilities, especially when a disaster occurs. Imagine being able to finally get a radio that receives six different bands while maintaining dual band transmit, full duplex, and cross-band repeat functionality. This is the first radio on the market that can facilitate amateur radio, commercial, and general public usage. It's also offered in an IP53 rated casing for water and dust outdoor protection. If you're serious about communications, you might want to take a look at this radio.
We wanted to test the radio out in multiple settings. Of course, you will get the best range through line of sight operation, however we know that's not always possible. Outdoors, we were able to receive multiple NOAA channels. This is one of the first indications that the radio you have has good receive capabilities. Hitting local repeaters was also no problem, even on low power (1 watt). You may also opt for a higher gain antenna and get much better results, however, we stuck with using the stock antenna for testing purposes.
If you're into secure/encrypted communications, this radio has that too! We were able to test the FHSS mode, which requires another radio with the same programmed code into it. Think of it as a communication decode password. Without this code, nobody can hear your transmission. You must setup the MSK decode signaling before using this option. It's always nice to know that you have the option to keep your communications truly private. FRS radios do not offer this functionality.
Application in Real-Life
This radio can serve multiple purposes: emergency communications, ham radio, storm chasing, Skywarn, prepping, public service, etc. You can make it your own by programming a personal message each time the radio turns on. Take it with you camping as we also did. On the camp out you can communicate with others, talk on your boat, etc. While you're at camp, activate the FM radio function to listen to music. Hear that plane flying over? Tune into the aircraft band to see what's going on. Hear thunder? Turn on the NOAA weather radio function to receive the latest weather information.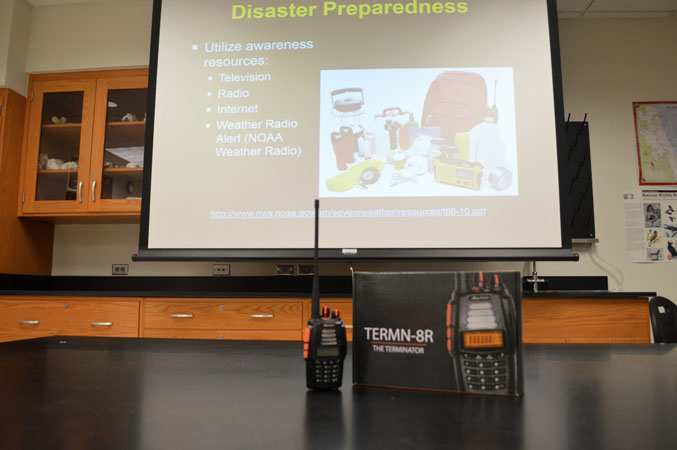 If you're going to travel, be outdoors, or want to be prepared for a disaster, this is a radio you should consider getting. It's one of the only radios with so many options built-in straight out of the box. Once you get it programmed, it's very easy to operate. You can also boot into pre-programmed modes, but we found it easier to just program our own frequencies into the available 200 memories.
Programming
One of the easiest ways to get started is to first read the owner's manual and then get the free software. ULTRA TechLife recommends CHIRP, which is free. CHIRP continues to support more radio models with each update. Please note that you have to get used to using this software, but it makes programming the radio so much easier. The radio's settings can also be programmed through the software. Think of this software as an excel sheet where you manually enter in the frequencies you want. Best of all, it has a drop down menu to help you select options, which makes it very easy to use. It took us 30 minutes to program several frequencies and setup the radio the way we wanted it.
Specifications
The radio weighs about .67 lbs with the battery and antenna attached. The antenna type adapter is an SMA female on top of the radio. It does come with a high gain antenna in the box. Power options include high (5 watts), medium (2 watts), and low (1 watt). The 123×66×39 mm dimensions makes it about a small to average size for a handheld radio. Frequency coverage includes [TX] 136 – 174MHz, 400 – 520MHz, [RX] 136 – 174MHz, 400 – 520MHz, 520-1710kHz (AM Broadcast), 2.3-30MHz (Shortwave), 68-108MHz (FM Broadcast), and the 108-136MHz aircraft band. You can get to the radio function by pressing the function key and then FM. Once in the menu mode, you can switch bands by selecting function and then the band key on the keypad. Note that you cannot transmit in other modes or outside of the specified transmit range. A FCC license is required for many of the frequencies.
For those wondering what the retail box comes with: it includes a standard 2200mAh battery, high gain antenna, earpiece with microphone, a drop-in desktop charger, AC adapter, belt clip, wrist strap, and owner's manual. We highly recommend reading this manual because it will help you learn how to operate the radio with ease! Due to its many functions, it's a good idea to play with your radio before wondering out with it. The owner's manual is easy to read and programming the radio becomes easy once you learn how to use the menu and software (available for free).
The user can program using the keypad or software (recommended). Firmware upgrades are also possible. Alpha tags are available for both top and bottom display lines. Full duplex and cross-band repeat is supported. Pre-programmed frequencies include 5 MURS Channels, 7 NOAA Weather Channels, and 23 GMRS Channels. There are 200 programmable channels available in 10 memory banks. Channel spacing can be set at 25 KHz for wide band and 12.5 KHz for narrow band. Operation Voltage: 7.4V DC. Battery: 2200 mAh. Battery life is medium and of course longer on standby usage. Frequency steps: 2.5, 5, 6.25, 10, 12.5, 20, 25, 30 and 50 KHz. We should also mention that the radio has an excellent 1 watt (powerful/loud) speaker.
Something interesting about this radio's specifications is its ability to operate Frequency Hopping Spread Spectrum (FHSS) mode, a more secure communications option. You can program the side function keys to activate this mode along with other options such as talk around frequencies, 2/5 tone paging, etc. This would be great for emergency communications people that need an all-in-one radio.
Improvement Areas
The radio offers excellent features. One thing we would like to see added is a firmware update that provides more functionality for the backlight assignments. It would be nice to turn the automatic backlight function off while still having the ability to trigger the backlight through one of the programmable keys or the keypad itself with one push. A larger antenna would be optimal for shortwave receive. It would also be nice to have USB rather than AM only shortwave listening, which limits the shortwave listening functionality. In general, turning off the backlight function will save you some battery power, especially during the day when you can see the keypad letters. It would also be a nice marketing addition to offer the radio in different colors, such as yellow (higher visibility) and an all-black model for survivalists (less visibility). The radio is still an excellent option for disaster preparedness, ham radio operators, storm chasers, and emergency operations, considering its options and specifications.
Overall Impression
Review Gist
Product:
TERMN-8R
Price:
$139.95-$149.95
Rating:

Difficulty:
Easy
Website:
From a professional perspective, this radio is one of the first affordable all-in-one packages that offers full duplex, multiple band receive, NOAA weather alert, two tone paging/decoding, FHSS, and built-in power source functionality for more than one source (barrel plug, drop in, etc.). We've tested the radio, which also is supported by the latest CHIRP software update, and gave it an overall rating of 4/5 stars. Our only wish was for more backlight functionality through the programmable side buttons, USB shortwave capability, as well as more available colors. UTL will be showing off this radio and other emergency preparedness items at various Florida colleges this year. This radio is an excellent choice to include in any disaster preparedness kit.
2017 Update: We've lost contact with this company. Many ham radio operators were asking about a public release and type acceptance update. We were unable to determine the status of production with this model. Stay tuned and we will update you when we get more information.
Owners Manual URL: https://anytonetech.com/downloads/OBLTR-8R%20TERMN-8R29.3%20%28Secure%29.pdf