Hurricane Irma will test America's natural disaster preparedness and response infrastructure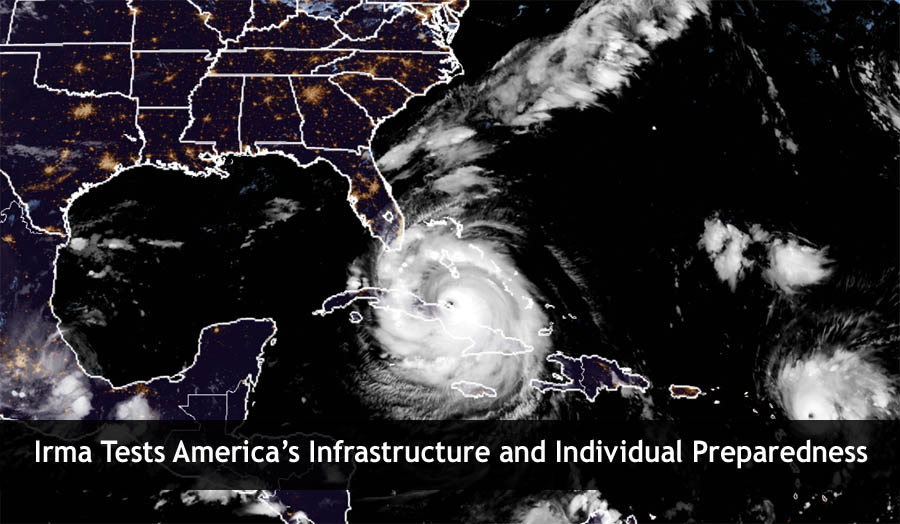 Major hurricanes raise attention regarding our nation's infrastructure and personal preparedness levels. Hurricane Irma will test both individuals and governments. While many are worried about an incoming disaster, experts say the real disaster has already occurred – the failure of US preparedness, response, and the nation's crumbling infrastructure. These matters could make any significant hurricane impacts much worse than previously thought. Being prepared for disasters is a critical part of accepting science and the accurate forecasts that give advanced warnings of incoming hurricanes. It's important to avoid panic, exaggeration, and never underestimate or overestimate the impacts of any category of tropical cyclone.
Disaster!
Let's talk about hurricane preparedness.
All eyes are on the eye of Irma, where the most devastating winds and damage will be experienced. Ben Alonzo teaches earth and atmospheric science at Valencia College in Orlando, Florida, which is in the path of hurricane Irma:
"We've been hit by many hurricanes, but the next major strike isn't a matter of if, it's when. No hurricane is exactly the same and it only takes one major disaster to cause catastrophic damage. Everyone has to be careful to avoid both underestimating and overestimating weather forecasts. Multiple accurate models, combined with experienced forecasters really raises the confidence about the track of a storm — so people should take evacuation suggestions seriously. Everyone also has a role in being responsible with their own disaster plan, taking a level of personal responsibility – and it also gives you peace of mind in the middle of uncertainty."
A hurricane preparedness video was released by ULTRA TechLife on Thursday, September 07, 2017 describing some common myths, exaggerations, and some science behind tropical cyclones.
The 2 AM ET 9/9/17 NHC official track continues showing hurricane winds threatening most of Florida through the end of the weekend into Monday. This track may slightly wobble or deviate left or right as the storm continues on a northerly track and also increases slightly in speed.
By the time Irma reaches Miami and the Florida Keys, models agree that the maximum winds and damage will be focused in this area. Unfortunately, these areas are in the worst component of the storm in the upper right quadrant. People near the coast and on islands were already warned to leave.
Irma reaches Central Florida by late Sunday and models continue to show hurricane winds are likely, despite a weakening trend that will continue as the storm moves north over land. High winds will impact many densely populated areas from Miami all the way to Jacksonville.
People should visit the National Hurricane Center's website for the latest official hurricane tracks. You can also check out Ready.gov for more information on a disaster preparedness.
It's only a matter of time before another major hurricane hits after Irma. We've had years to prepare and learn from our past mistakes, many experts say.
A Disaster Before The Disaster
Much of America isn't prepared for a major disaster, according to the Federal Emergency Management Agency's own household surveys. At least 60 percent haven't practiced a disaster plan, only 39 percent actually have a plan, even though over 80 percent of those surveyed lived in an area already hit by some kind of recent weather related disaster. The National Center for Disaster Preparedness at Columbia University estimates similar results, stating at least 65 percent of households surveyed didn't have adequate disaster plans. The disaster preparedness failure also includes state, local, and federal resources, according to US government reports. Over 51 percent of people were not confident in government response to disasters.
Preparedness is a matter of being able to remain self-sufficient for days, taking personal responsibility, rather than relying on others to provide immediate food, water, shelter, and aid. Disasters aren't anything new, but the continued failure to prepare, practice, and prevent is very telling.
Experts say that the immediate time after a disaster almost always means no emergency services will be available. In the case of a major hurricane, communication lines could be down and conditions could be too dangerous for first responders to go outside – sometimes meaning help isn't available until after the storm.
Being ready for a disaster is much more than a single individual or city planning. Our economies are interconnected, regardless of where an individual works, state lines, county borders, or city limits. The impacts of a natural disaster are often felt around the world. We truly have a global economy that involves import, export, and ongoing transactions, communications, and transportation activities. Each of these factors relies on the existence of an adequate network of power, communication, and transportation infrastructure.
The American Society for Civil Engineers gives US infrastructure a grade of D+ because its bridges, roads, coastal structures, dams, drinking water, levees, ports, solid waste, and waste water systems are crumbling. This infrastructure failure means any natural disasters that do occur will have much greater impacts that make it difficult to impossible for recovery.
Renewed Interest in Science
When science gets attention, namely by saving lives and property, its utility is out in the open for everyone to see. America's outdated infrastructure and large numbers of people that don't fully accept science ultimately prevent progress, innovation, and intellectual discourse. This distrust and unwillingness to accept science costs everyone time, money, and sometimes lives.
Some think the additive wording and seeming exaggeration in weather language experienced before hurricanes involves blame for both the drive for ratings as well as a necessity to gain the attention of people that would otherwise ignore an important message. The failure to fully accept science may at least partially explain the truth to needing some other way to get the attention of the masses.
Disasters can bring people together, possibly renewing interest in science. Hurricanes have highlighted how scientists have the ability to use specialized visible and infrared satellites as well as numerical weather prediction models to produce some of the most accurate forecasts in modern history. The advanced warning of dangerous weather has also significantly increased, especially before major hurricanes hit. The consistently accurate forecast tracks are a testament of the scientific method reproducing highly visible results, increasing confidence, and ultimately confirming its validity in society. Great things happen when more people get a science education and begin to apply it in their own lives.
Disasters may be nature's way of getting more people to explore, accept, and embrace science. Sound science is the future of nearly every critical industry in existence today. The importance of science is only rising as unique we face further unique challenges in our near future.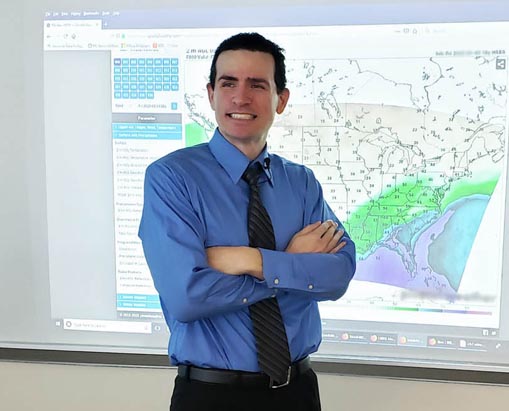 About Author:
Ben Alonzo
is a scientist, tech expert, professor, and director of
ULTRATechLife.com
. He's CEO of the media-tech firm
Storm Sector, LLC
. Ben holds an M.S. in Geoscience, M.S. in Nutrition and Health, and a B.S. in Geoscience. He's a highly-rated professor that teaches several courses, including earth science, environmental science, oceanography, meteorology, and public health. His diverse background spans numerous fields, network and computer systems, healthcare, weather forecasting, consumer electronics, computer programming, and web development. Ben holds numerous professional licenses and certifications, ranging from information technology to healthcare and emergency medical technician. He's also a pilot that loves flying. He's been writing about science and tech for over 10 years. You can see some of his past articles on the Houston Chronicle, eHow, Hearst, and other networks. In his free time, he loves scuba diving, traveling, storm chasing, producing videos and writing guitar music.
More about author.
Coming soon: Follow Ben on his new social media: Instagram @realniceben | Twitter @realniceben