The Wouxun KG-UV9D Plus dual band HT doesn't make the grade – Review
Apr 18, 2017 @ 2:53 AM ET
By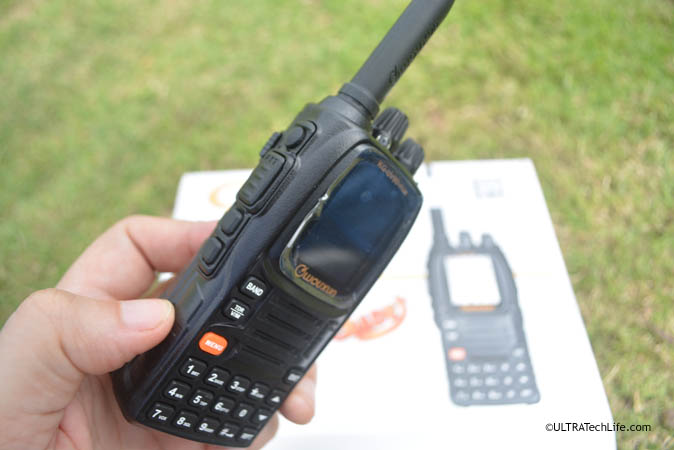 Wouxun has been a welcome foreign brand for US amateur radio operators because they cost a fraction of their competitors. There are many reviews of this radio online, but few point out some of the biggest flaw of the KG-UV9D Plus – the screen. In addition, we can confirm that multiple radios did not receive the frequencies that were guaranteed in advertisements, on the box, and in the user manual. There are plenty of ham radios at good prices, but consumers need to stay away from any radio that has these kinds of issues. Without visualizing the information on the screen display, the user has less ability to know what frequency they're operating on, which is a serious issue. Beware before buying this radio, especially if you're a new amateur radio operator.
Wouxun KG-UV9D Plus
Wouxun certainly had a great introduction into the US ham radio market. Their KG series handhelds were cheap and offered similar features as most Icom, Kenwood, and Yaesu handhelds. Ham radio operators love being able to buy ham radios for a fraction of the cost. However, one of the major issues, which seems to be hit and miss, is a matter of quality and specifications. Quality issues include incorrect frequency display, poor battery life, dead on shipment units, low power output, poor receive, slow scanning, and noisy transmission and harmonics. The KG-UV9D Plus is one of the newer versions of the KG series, offering a larger display and supposedly wider receive ability.
*We are still a fan of the earlier KG-UV3D series, despite its poor battery life.
The KG-UV9D Plus is capable of cross-band repeat, 5 watts of power on VHF, 4 watts on UHF. Extended receive is listed on both the box and user manual (as well as advertisements) as 76-108 (FM Radio), 108-136 (AM), 136-180 (FM), 230-250 (FM), 350-400 (FM), 400-512 (FM), and 700-985 (FM). We had multiple problems getting either band/side of the radio to go above 700 MHz, which seems to be confirmed by other reports. The radio would not receive any frequency above 700.000 MHz. There has also been evidence that this radio displays the incorrect frequency above 512 MHz.
We were unable to get anything near the marketed 18 hours of operating time. In fact, multiple KG series handhelds we've tested would lose their battery power after sitting just a few nights – to the point where it wouldn't power on without another full charge. This automatically makes the radio a poor option for emergency preparedness.
If you're looking for an emergency preparedness radio, one of the most important things you want is to make sure the battery lasts a long time and that after leaving the radio off, sitting for a few days, that it will power back on with a decent amount of battery life left. A radio without power that cannot function is useless.
Another problem with this radio is the fact that the belt clip is built into the battery and not the radio. If you switch the battery, you better have another belt clip screwed onto it.
Despite the claim of being "waterproof" in various advertisements, we also noticed audio and functionality problems after exposing the unit to moderate rain. The radio was allowed to dry for 2 days before audio returned to normal function. The display returned to normal after 4 days.
Screen Problem
This radio cannot be seen in any moderate to high amount of sunlight. If you use this radio outdoors on a sunny day, forget being able to see the display at all. This makes it impossible to know what frequency you're on or make changes on-site to the radio. We captured this on video to show our visitors what it looks like during a partly cloudy day. Changing the contrast/brightness does nothing noticeable outdoors. You simply cannot see the screen at all, which is unacceptable.
Public Service Use – Absolutely Not
There are many people talking about using this radio as a "volunteer" or "SAR" radio for a department. This radio does not meet even lower quality standards to be used in any commercial capacity. It would be very dangerous to use this radio as a primary or backup for fire, police, construction, or emergency medical service work. The radio cannot be operated with gloves on, the screen is extremely hard to see outdoors (or near any light sources), the battery life is poor, it cannot handle drops from even 3 feet, and it is not waterproof – even from light rain.
Please, thinking of safety, do not put your life or your crew in danger by relying on a piece of junk like the KG-UV9D Plus. Get yourself something else that is more reliable and built to a higher quality standard.
Technical Specifications
The KG-UV9D Plus offers: 500 mW front speaker output, color changing screen option, IP55 water resistant rating, true simultaneous dual receive (B+B), 999 memories, alpha tags (truncated strange screen display), 25 or 12.5 kHz wide/narrow choice, receive ability of 76-108 (FM Radio), 108-136 (AM), 136-180 (FM), 230-250 (FM), 350-400 (FM), 400-512 (FM), transmit ability VHF: 144-148 (FM), UHF: 420-450 (FM), CTCSS/DCS, SMA antenna, belt clip on the battery itself (major negative), power output of VHF: 5/2/1 W, UHF: 4/2/1 W, battery supplied at 2,000 mAh (li-ion), frequency steps of 2.5, 5, 6.25, 10, 12.5, 25 kHz, DTMF backlit keypad, and VOX ability.
The display can be programmed with a personal message.
You can program the radio from the keypad, although the menu is a bit annoying. Unfortunately, we found no reliable way to program the radio with the popular CHIRP software, so that's not an option. The free programming software can be downloaded from Wouxun, however.
The radio retails between $159-179 USD at most ham radio stores. It will come with two antennas (we noticed no performance difference), drop-in charger, manual, battery, belt clip, wrist strap (useless), and the radio itself.
---