ULTRATechLife.com launches - free giveaways – promoting science and tech
Dec 21, 2018 @ 12:20 AM ET
By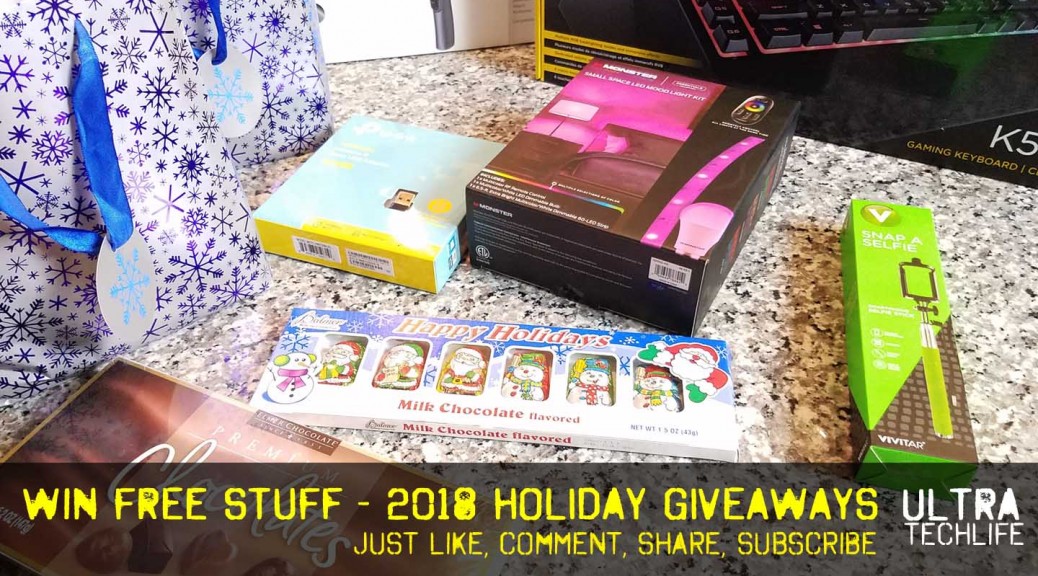 We're giving away lots of cool free stuff… so pay attention! Hey, what's up? This is Ben from ULTRATechLife.com and I'm excited to announce the official launch of the website. It took a long time to get to this point but there's lots of cool stuff happening. I have lots of things to share, especially unique science and tech stuff. During the launch, we will be giving away lots of cool gift cards, gift bags, tech toys, and gaming equipment. We've even got some special gift bags for college students. Do you like free stuff? Science? Tech? Then stay tuned to ULTRA TechLife for some unique content and chances to win cool stuff. Just like, subscribe, and share. Our new social media links are in this post!
Launching ULTRA TechLife
Hello, my name is Ben Alonzo. I'm a unique scientist, tech expert, business leader, professor, pilot, scuba diver, emergency medical technician, photographer, musician, author, and lots of other cool things. Science and tech are my life, living, profession, and hobbies. I really love sharing things, especially knowledge that truly empowers people to see a new perspective, make better choices, become informed, live life easier, work with smart technology, be more secure, and advance in skill. I've also been through a lot and I've earned a very rare and unique set of credentials that together help me do lots of cool things – including educating others. One of the easiest ways to share information is to create a website. Now that ULTRATechLife.com is ready, we have a new YouTube channel, Twitter, and Facebook accounts.
Focus
I wanted to stay away from politics and personal feelings so my content focuses on science and tech matters with a mixture of do-it-yourself informational material, pro tips, and some entertainment. I don't sway to any political garbage and I'm about promoting actual science, tech, and critical thinking. There will be times when science says something people don't like, but science doesn't care about subjective feelings. There will be times when well-educated scientists must stand against pseudoscience/junk science, especially when it seems to come from major sources. I'm not afraid to stand up for science and I don't pick and choose, even if it's an unpopular opinion. Science isn't about popularity. Sometimes science isn't seen as cool by some people. In fact, some people pick and choose which science they like, even so-called science enthusiasts. My content focuses on a wide variety of science and tech matters, embracing sound science across all aspects of life. Imagine how much life would improve, how much happier people would be, how much more free we would be, if we would truly leave behind outdated traditions, belief systems, and practices to fully embrace modern science.
It's easy to lose focus by getting involved in online arguments, often with strangers that have no formal scientific credentials in the areas they argue about. This can snag someone into wasting precious time and money, especially when they engage in circular echo chambers – the cesspools where new ideas are unwelcome and only popular pseudoscience picking and choosing is embraced (a superficial love of science is portrayed). It's easy to spend hours arguing and getting personal, but where does this get the messenger or society? Nowhere. We should focus on moving forward and promoting science to those receptive to the message, instead of wasting our time. We desperately need science to improve our world and to survive. There's no time to waste. Life is short. Embrace it!
I've personally experienced the difference it makes when you fully embrace science in nearly every aspect of personal life. My only regret is that I didn't do it sooner. Science isn't just something for the laboratory, it's a way of thinking, advancing, making the best decision, being free, and improving your own life. Now, I'm here to encourage everyone to fully embrace science, to gain tech knowledge and skills, and to apply these things in your lives. It will make a huge difference.
So this is one of many of my projects. I have a lot going on, but when I have time, I will be publishing in-house articles and videos on a range of unique topics. I hope all of them will be informative and helpful in several ways to as many people as possible. There's no set schedule so you'll have to just keep checking our website and social media for new content. This should be pretty cool and I'm very excited to be finally doing this on a regular basis with some cool equipment and new opportunities.
I hope as many of you as possible come onboard from the start and help launch this into something bigger. It's going to take some time and some support, but it can be done – no doubt. There's lots of voices online but we need more actual credible experts to start actually leading by example, sharing success tips, and getting involved in today's affairs, especially when it promotes critical thinking, sound science, efficiency, advancement, skill, education, and free minds.
Support
It takes a lot of time and money to keep any website or content coming, especially for the long-term. You can support my operations, articles, and other things you see published by me through subscribing, sharing the content/links with your friends, and by using our official PayPal buy a drink buttons on our ULTRATechLife.com website (our website only). All of the tech reviews I do are unbiased and are presented from an expert perspective. They are also designed to help consumers make smart choices, avoid trouble, save money, and be more secure when using today's technology. We appreciate your support. We're looking for long-term, loyal supporters to be a part of this cool idea.
Giveaway Details
To promote the ULTRATechLife.com website, our official YouTube channel, Twitter, and Facebook, we will be giving away several cool things. Examples of our giveaway items include: Holiday gift bags full of candy, treats, cookies, and stocking stuffers, college student gift bags full of the essentials (contains random items: Ramen, popcorn, candy, shaving stuff, soap, toothpaste, Tylenol, assorted gourmet tea bags, and Xbox Live cards), gaming gear, selfie sticks, and room LED lighting kits.
Stay tuned to https://t.co/aV1LbXfbuu and our new social media channels for a chance to win one of many free holiday gift baskets filled with good stuff. We will announce soon! #launch #freestuff #college #student #holiday #gifts #science #tech pic.twitter.com/kBQ1iqpEG4

— ULTRA TechLife (@ULTRATechLife) December 20, 2018
For your chance to get one of the giveaway items just like, comment, and subscribe to our YouTube channel, Twitter, and Facebook accounts. We have a way to pick random usernames for winners. We'll be picking several winners over the next couple of weeks. We ask that if you do win, when your cools stuff arrives, smile, take a pic, and then tag us to tell your friends about us. It's a cool promotion and who doesn't like free stuff? We expect a small amount of people to participate at first so your chances of winning something are actually quite high.
Giveaway rules: Winners will be selected by following/meeting the rules and requirements. Random usernames will be selected from people that like, subscribe, and leave comments to one or more of our official social media outlets, including Facebook, Twitter, and YouTube. Simply login to your social media account and subscribe, like the individual post or video, and then comment. This enables us to collect your username for the random drawing. Giveaway contents/items will me mixed/random. Winners are not eligible to win more than one giveaway item. We will also use that to contact you if you are selected. No purchase necessary. Void where prohibited. The prizes do not contain cash. If you are under 18 years of age, you must have written parental permission to participate or receive a prize. You must be a US resident with a valid continental US mailing address (required for shipping giveaway item to you). Winners will be notified via the account they used to subscribe/comment. The address you provide must be correct, we are not responsible for missing shipments and will not resent the same item twice. Ensure if you do win that when asked you provide a valid continental US mailing address. Continental US PO Boxes are accepted, but we cannot ship to military addresses outside of the continental USA. Storm Sector, LLC employees, contractors, advertisers, or sponsor staff members are not eligible for giveaway.
Closing
So here's to a good 2019 and new things. Here's a toast to promoting science and tech. Be sure to like, share, and subscribe for your chance to win cool prizes. Did we mention free stuff? We've even got some cool gift bags especially for college students. Stay tuned to ULTRA TechLife for more cool stuff. Our giveaway program will be going on for the next several weeks with numerous chances to win cool things. Good luck!
-Ben Alonzo
Founder, ULTRATechLife.com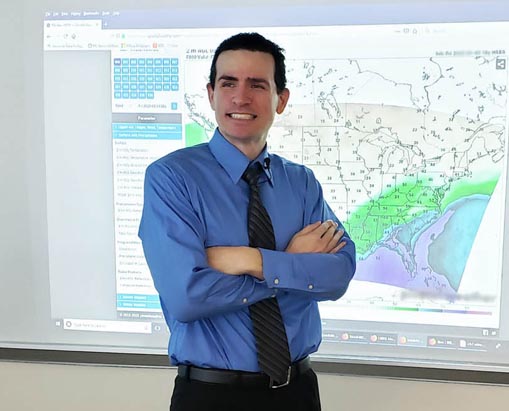 About Author:
Ben Alonzo
is a scientist, tech expert, professor, and director of
ULTRATechLife.com
. He's CEO of the media-tech firm
Storm Sector, LLC
. Ben holds an M.S. in Geoscience, M.S. in Nutrition and Health, and a B.S. in Geoscience. He's a highly-rated professor that teaches several courses, including earth science, environmental science, oceanography, meteorology, and public health. His diverse background spans numerous fields, network and computer systems, healthcare, weather forecasting, consumer electronics, computer programming, and web development. Ben holds numerous professional licenses and certifications, ranging from information technology to healthcare and emergency medical technician. He's also a pilot that loves flying. He's been writing about science and tech for over 10 years. You can see some of his past articles on the Houston Chronicle, eHow, Hearst, and other networks. In his free time, he loves scuba diving, traveling, storm chasing, producing videos and writing guitar music.
More about author.
Coming soon: Follow Ben on his new social media: Instagram @benpro98 | Twitter @benpro98
---